Rescue workers recovered hundreds of bodies from eastern Libya after devastating floods destroyed large parts of a coastal city, with local officials and aid workers warning that thousands were feared to have died.
Tamer Ramadan, head of the International Federation of Red Cross and Red Crescent Societies delegation to Libya, said on Tuesday that 10,000 people were thought to be missing.
"The death toll is huge," Ramadan told the Financial Times. "I believe the total number will hit some thousands." He said it was too early to confirm how many people had died, however.
The worst-affected area was the coastal city of Derna, where the storm destroyed two dams, intensifying flooding that washed away buildings, homes and roads after Storm Daniel — which had already hit Turkey, Greece and Bulgaria — struck the north African state at the weekend.
Libyan officials gave different numbers for those confirmed dead. Osama Ali, spokesman for the country's ambulance and emergency services, told the FT that at least 2,300 had died, adding that they were "still counting".
"Entire districts have been wiped out," he said. "There is only one hospital in [Derna] and it is overwhelmed."
Hichem Chkiouat, a minister in the administration that controls eastern Libya, told Reuters that more than 1,000 bodies had been recovered from Derna, adding that about a quarter of the city had been destroyed.
"It is very disastrous," he said. "Bodies are lying everywhere — in the sea, in the valleys, under the buildings."
Ali said rescue workers were struggling to reach parts of Derna because main roads had been washed away and turned into rivers.
"Access is very difficult," he added. "We need logistical support to find those missing. We need specialist teams. So far no aid has arrived from abroad."
Authorities declared Derna, which lies on the Mediterranean coast east of Benghazi, a disaster zone on Monday.
Faraj Najem, director of the Centre for Peace and Crisis Management, which is affiliated to the eastern government's foreign ministry, said the collapse of the dams sent torrents through Derna, "taking with them thousands of people, who were buried under the mud".
"The government says the number of those lost [missing] could reach 10,000. We think it could be more," he added. "The areas swept away are on the seafront."
Najem said forces from the east's Libyan National Army had reached the city to aid rescue efforts, but said "they have never faced anything like this and they are not trained to deal with such a crisis". There is also no electricity or communications in the city.
Videos and images posted on social media showed water running through places such as Derna and Al Bayda alongside destroyed buildings and overturned vehicles.
Video description
Red Crescent workers helpi people in the city of Al Bayda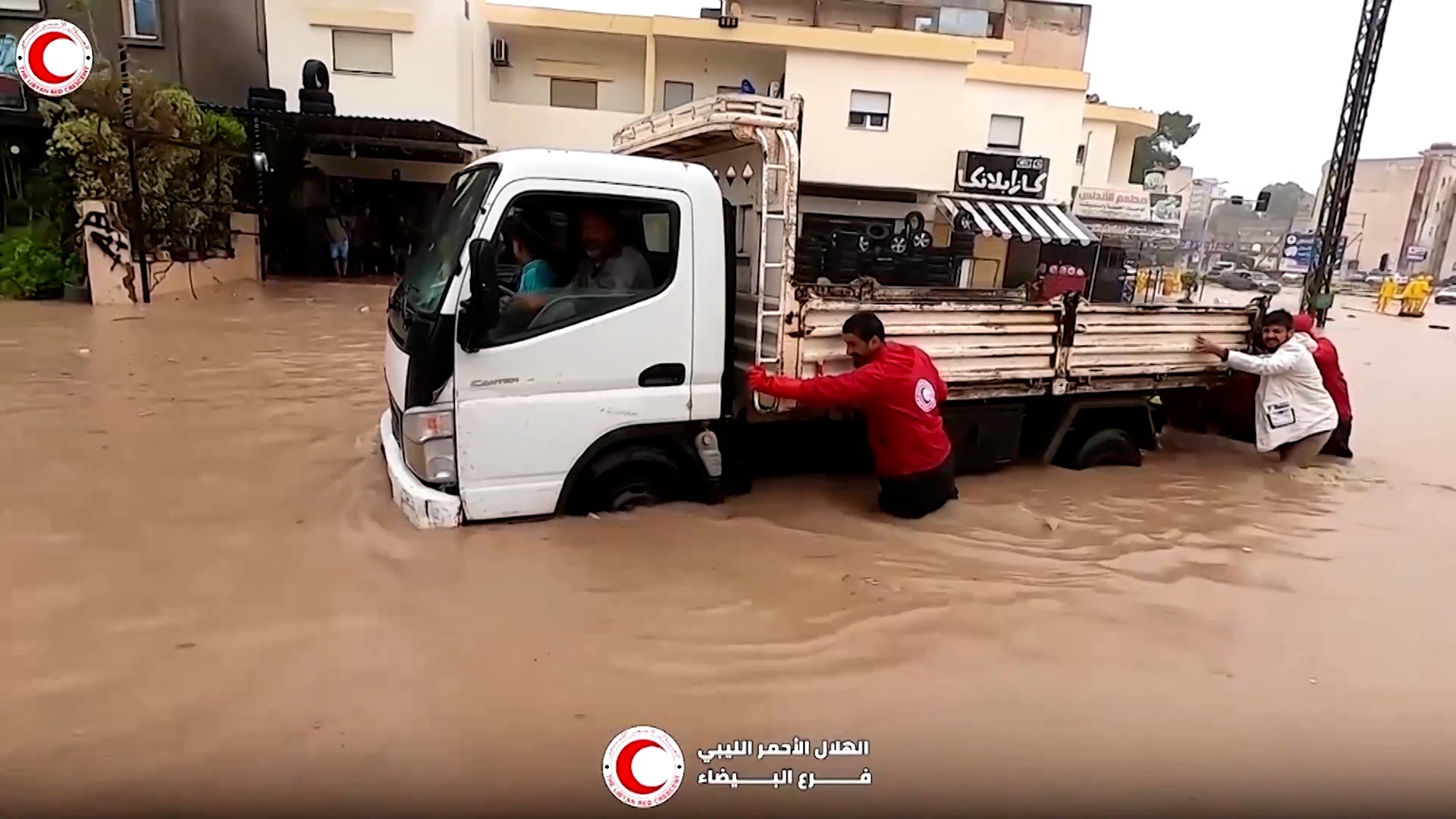 Red Crescent workers help people in the city of Al Bayda © Reuters
Red Crescent workers helpi people in the city of Al Bayda
Recovery efforts are likely to be complicated by the weakness of the state. The oil-rich nation has been blighted by years of chaos and conflict since dictator Muammer Gaddafi was toppled after a 2011 popular uprising morphed into civil war.
Rival factions have since carved the country into a patchwork of fiefdoms. The country has competing governments based in Tripoli, the capital, and eastern Libya, which has for years been under the control of Khalifa Haftar, a renegade general who leads the Libyan National Army.
The divisions have rippled across public institutions, leaving the state weak and fractured. Western states do not typically engage with the eastern administration, as the UN-backed government in Tripoli is internationally recognised.
"The state is very weak," Ramadan said. "The infrastructure is not that strong, there are still some basic services that are compromised, so they were still in the recovery stage when this hurricane hit them."
Turkey has dispatched three cargo planes to Benghazi, with a total of 168 search and rescue specialists and other aid including tents, generators, raincoats and torches. Neighbouring Egypt said it was sending soldiers and helicopters to help with recovery work.
US President Joe Biden offered his condolences to the victims of the floods and said Washington would support relief efforts. 
"In this difficult hour, the United States is sending emergency funds to relief organizations and coordinating with the Libyan authorities and the UN to provide additional support," Biden said.
Georgette Gagnon, UN humanitarian co-ordinator for Libya, said on Monday that "early reports indicate that dozens of villages and towns have been severely affected by the storm, with widespread flooding, damage to infrastructure, and loss of life".
"I call on all local, national, and international partners to join hands to provide urgent humanitarian assistance," she said on X, formerly known as Twitter.
Climate Capital
Where climate change meets business, markets and politics. Explore the FT's coverage here.
Are you curious about the FT's environmental sustainability commitments? Find out more about our science-based targets here